1938-S Jefferson Nickel with Enhanced Steps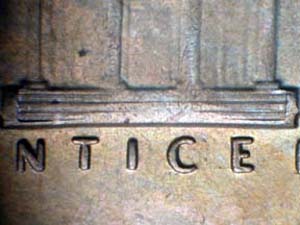 Michael Dingeldein has reported a Jefferson nickel from 1938-S which has what appears to be an enhanced step design. After photos made the circle of variety researchers, no final conclusion could be reached. The design may be a prototype design trial which led to the 1939 RDV-002 (straight step) design or it may be from some modern hobo nickel carver perfecting his techniques. See my study notes here. For additional photos, visit the Jefferson Nickel Vol. 1 E-Book under reverse design varieties.

"Hot Lips" Dimes Now Considered Die Clashes by CONECA Variety Attributer, James Wiles
Originally attributed as doubled dies by John Wexler and published by Ken Potter in Numismatic News, "hot lips" dimes were subsequently cataloged as doubled dies by CONECA as well. I had questions initially but was willing to agree with other attributers and list them as DDOs, until more information surfaced. It wasn't long until several additional specimens from varying dates and die states were reported. It was discovered that all had die clash marks and when overlays were made, the reverse design matched the doubled areas. I have now seen enough examples for me to conclude that the doubling is most likely the result of die clashing/abrasion and not from a doubled die. Other attributers are re-evaluating their positions. I remain open, but until I see an example without die clashing, I am no longer listing them in the CONECA Die Variety files. In fact, those that had been listed, have now been removed. See my study notes, overlays, and photos here.
Detailed Study of the 1914/3 Buffalo Underway
Several Researches are attempting to resolve the decade old controversy surrounding the 1914/3 Buffalo Nickel. Is it a legitimate overdate? Or is it damage to a working hub? We are in need of MS specimens to photograph, particularly of the 2 dies which show what appears to be the bar of the 3 through the upper 4 of the date. Any help you can offer would be greatly appreciated. You can find information on this current study here and here and in the Buffalo Nickel E-Book.
Doubled Die Numbering System Uncoded!
After numerous requests to explain what the CONECA doubled die numbering system means, I have prepared a page describing each element. Please take a moment to read through it and offer any suggestions for how it can be explained in simpler terms or ask any further questions you may have. You can get to it by clicking here.
Doubled Mintmark Punch of 1974-S
Proper Magnification for Die Varieties
Watershed Dates in the Modern Minting Process
CONECA Numbering System for Die Varieties